Regular price
Sale price
922,50 PLN
Unit price
per
Sale
Sold out
Microbiological testing of ice cream is a service aimed at ice cream parlors and any food service establishment regardless of square footage. It is an effective method for detecting Salmonella, Listeria and other bacteria of the Enterobacteriaceae family.
Read more
Scope of testing

The set of microbiological tests of ice cream includes:

the presence of bacteria of the genus Salmonella;
the presence of bacteria of the genus Listeria;
the number of Enterobacteriaceae.
Method of collection and delivery

Collection of the samples by SGS employee - 300.00 PLN
Self-submission of the self-collected samples - free of charge

Samples should be delivered to one of the three addresses:

1. ul. Poznańska 305 B

05-850 Ołtarzew

2. ul. Muchoborska 18

54-424 Wrocław

3. ul. Cieszyńska 52A

43-200 Pszczyna
Lead time

Estimated lead time is 5-6 business days (excluding Monday). Lead times depend on the number of accepted orders and may be delayed in special cases. For inquiries related to the intake deadline, please contact us.
View full details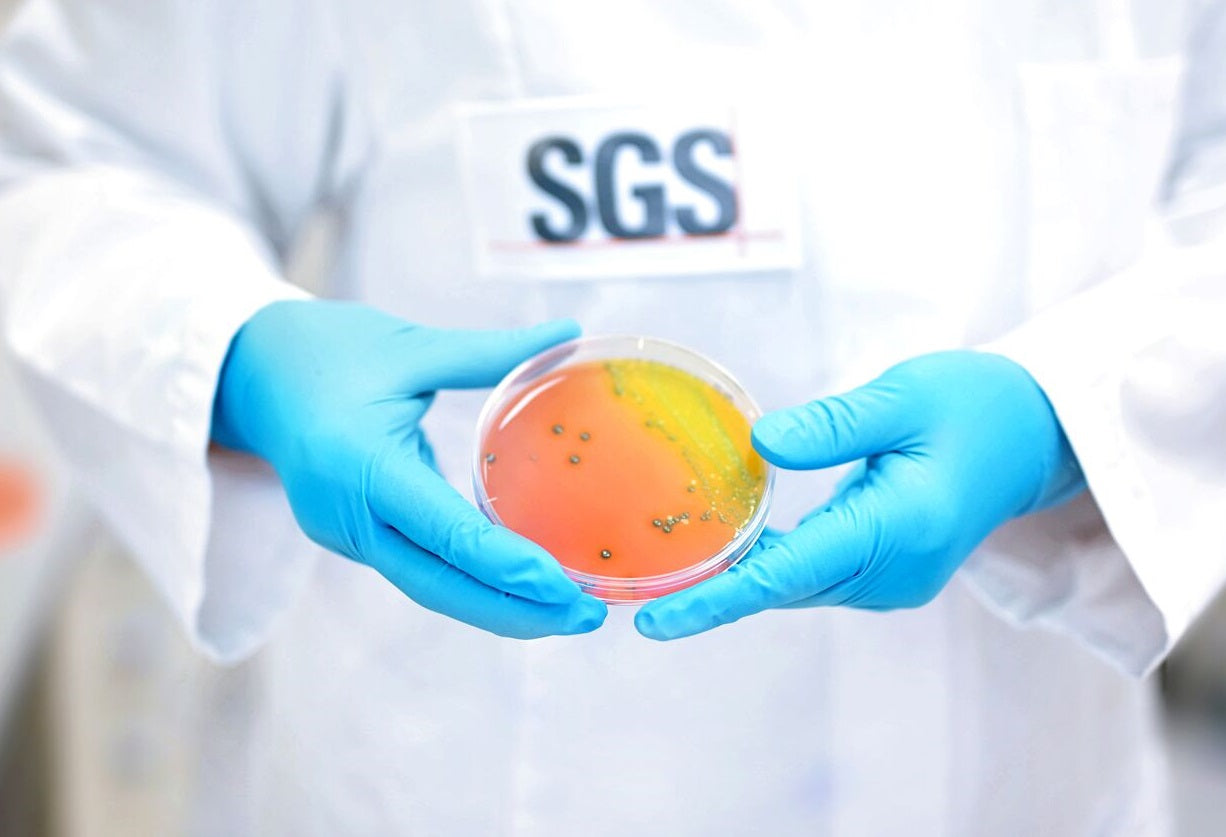 Ice cream testing
Testing ice cream for bacteria
The spring-summer season is a period during which ice cream becomes one of the leading products offered in many food service outlets. However, it is important to remember that, like other food products, they should be properly tested before they reach the hands of customers.

Because of what chemical composition ice cream has, it can become a breeding ground for numerous microorganisms. Their source is most often the raw materials, but contamination can also occur as a result of poor industrial hygiene or negligence at the production process stage.

In order for ice cream to remain just a tasty snack that will not harm your health in any way, it is worthwhile to perform microbiological analysis of ice cream before putting it on official sale. Using the services of the SGS Poland Microbiological Laboratory will enable the possible detection of harmful bacteria and thus improve the quality of the product, which will translate equally into customer confidence and profit.
Microbial contaminants in ice cream
One of the raw materials through which microorganisms are most often introduced into ice cream is milk. This raw material is the basis of many products of this type, as are eggs. Their microflora may contain pathogenic bacteria, of which the most commonly detected are those of the Salmonella, Bacillus or enterococci genera. Testing ice cream for Salmonella and other harmful microorganisms can therefore reduce the risk.

It is worth noting that the source of microbial contamination in ice cream can also be such additives as dried and fresh fruits, in addition to nuts. Therefore, it is recommended that before they are added to the composition, they should be subjected to appropriate thermal processes, by means of which it is possible to eliminate such bacteria and inhibit their development. In this regard, one of the key stages of the production process is, among other things, pasteurization.

It should be remembered that it is equally important to maintain proper hygiene at the final stage of production - that is, at the moment when the ice cream reaches the packaging or the place where it will be distributed. Contamination on the surface of the production line, in the packaging or containers can also lead to bacteria entering the food product.

Thus, it is necessary to take care not only of hygiene in the production facility - great importance should also be attached to regular cleaning and disinfection of surfaces that come into contact with the food product. This may include the vending machine that will be used to sell ice cream to customers. Failure to comply with these requirements can result in, among other things, the growth of Listeria bacteria.
Microbiological quality of ice cream - legal basis
If you are engaged in the sale of ice cream or other food products, you are bound by the microbiological quality criteria contained in Commission Regulation (EC) No. 2073/2005. Conducting the appropriate tests is therefore a requirement to be met before the product is placed on the market.
Testing of ice cream - Microbiological Laboratory SGS Poland
In order for the microbiological testing of ice cream for the detection of Salmonella, Listeria and Enterobacteriaceae to be authoritative, 5 samples are required. If you want to do a single test, this is also an option. As a customer of SGS Poland, you can prepare the samples yourself. For this task, sterile containers purchased at a pharmacy, like those for urine samples, will work well. Samples should be delivered in person by the client (if the distance is not long and there are suitable conditions and accessories for the samples not to be damaged), or it is possible for the sampler to come and pick up the prepared samples.

In addition to this, the Microbiological Laboratory of SGS Poland can perform additional tests for the number of molds, yeasts, coliforms, staphylococci and the total number of microorganisms. Laboratory analysis of ice cream can be both a guarantee of the quality of the offered product and a valuable source of information on the safety and hygiene of the production process and storage methods.
Ice cream shops

We will test the quality of ice cream offered as part of seasonal and permanent activities to be able to provide your customers with the appropriate level of safety.

Cathering booths and trailers

We control occupational hygiene and the microbiological quality of ice cream offered in small catering outlets, so that safe sale is possible.

Ice cream machines

If there is an ice cream vending machine in your facility or premises, you can commission us to test the ice cream from the vending machines to confirm their quality.

Other dining places

Each catering facility that offers ice cream in its offer of food products can obtain a test result from the SGS Polska Microbiological Laboratory.
Modern laboratories
The SGS Poland laboratory has the necessary certificates and accreditations
Professional staff
Our specialists will tailor a suitable offer to your needs
Professional integrity
Our staff work to the highest standards of quality and integrity
Knowledge and experience
Trained and long-standing employees
How it works
You can make your order in our online store
Order test kit from SGS and take a sample by your own or order the samples person who will come at the address
The analysis of the samples taken is carried out in the SGS laboratory
You will receive a report and an electronic invoice